MT. WILLS
| | | |
| --- | --- | --- |
| | Grid Reference | EV 421258 |
Mt. Wills site in 1970. We can't remember who supplied the photo, sorry.

Mt. Wills was a cabin on a concrete floor atop a rock and was completed in the 1962/63 summer. A similar cabin was intended for The Paps near Mansfield.
In 1966, the Forest Commission purchased an accommodation hut on Mt. Wills from the Tallangatta District Ski club and the observer used this tower for accommodation. (see photo below)
This was a Primary tower in it's prime time, but it was demolished in the year 2000.
The hut is still being used by walkers, as it is on a Alpine walking track.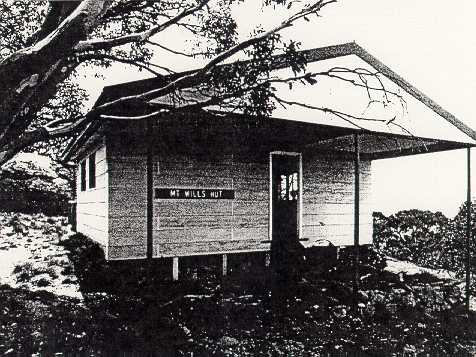 All information and photo of the cabin was taken from information supplied by David Bannear
Back to North East
Back to Victorian Towers
Back to Home Page