MT. SELDOM SEEN
Grid Reference
FU 058935
-37.097407, 148.192873
Department
DEPI
Work Depot
Nowa Nowa
Region
Gippsland
Grading
Primary
Elevation (ASL)
1340m
Height
13m
Construction
Steel
Cabin size
3m x 3m
Public access to site
Yes
In use since
1958 - 1965 (timber)
1965 - current
CFA Region
11 - Eastern

The original tower was constructed in 1958 but it burnt down in the 1965 bushfires. The current tower has been there ever since. The original hut was 2km below the tower, the first towerman rode his horse to work, and the hut was shifted in 1965. The hut burnt down after a 'party' in 1980 and was replaced by a more modern hut.

Photo (1998) and information supplied by Lois Brownbridge. Lois also supplied info on Mt. McLeod, Mt. Johnson, Mt. Tara and Stringers Knob.

Please click on thumbnail for enlargement

Photocopy scanned from notes supplied by David Bannear.

The information below was also found in notes supplied by David.

28-01-1947: The following appropriation has been approved by the Commission.
Erection of lookout tower, patrol hut and clearing of site at Mt. Seldom Seen, linking tower to Gelantipy by telephone.
The construction of the road was approved the year before at an estimated cost of £2160. The construction was to take approx. 8 weeks.

The fibreglass cabin from the Seldom Seen tower was damaged during the 2003 Alpine fires and replaced. The old cabin was put to good use at the local Wulgulmerang sports ground; it serves now as a commentary box!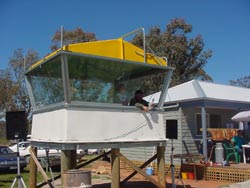 Photo was copied from DSE Fire Web and it's contributor was Adrian Bloch
Please click on thumbnails for enlargements.
After the 2003 fires
supplied by
Rachel Dawkins DSE
After the 2003 fires
supplied by
Rachel Dawkins DSE
After the refurbishments
supplied by
Rachel Dawkins DSE
New living quaters
after the 2003 fires
Supplier unknown
Original tower??
Supplier unknown
1998 supplied by
David Turner DSE

In July 2020, Ian King, a former FLO, supplied the following: "After the fire in 1964 or 1965 I was the first to work in the new tower at the time. I started there the cabin on top was not finished, there was a platform about 10 feet down with a compass on it and no ladder just bolts on one of the corner angle iron posts, when the cabin was finished I think the ladder was one foot off dead straight, the first day I was there it took an hour or more before I could climb it I was scared at first. Another thing I remember is when the Deputy Forest officer that took me up looked to see how much water was in the tank and he pulled out a dead possum. Every Thursday arvo he would call me and ask what food I wanted and he would bring it up Friday and the rest of my pay, stay for an hour or so then I was on my own for the rest of the week again .
There was a saw mill back towards Buchan and a young chap that worked there would come up on the weekends for a day. To keep myself occupied I would set up targets all around the place and shoot at them and any rabbits that came around. I used to go through hundreds of bullet's every week, it was a lonely life but I will admit I did like the job there. I was up at the tower for the first year only after it was rebuilt".

Mt. Seldom Seen was visited during the end-of-fire-season-FLO-get-together on the 30th April 2022. The above photos, taken during that visit, were taken and supplied by Andre Belterman.

Back to Gippsland
Back to Victorian Towers
Back to Home Page