MT. BENAMBRA
| | | |
| --- | --- | --- |
| | Grid Reference | EV 512598 |
Above information supplied by Graham Orr
Photo supplied by Rob Caddell

The original tower was a cabin placed on a rock. The tower was built to help with communication between Melbourne and Sydney. Tourist have access to the viewing platform just under the cabin.
Above information supplied by Graeme Swinton (Mt. Granya).

Black and white photo from hut near Mt. Benambra tower. Photo found in notes supplied by David Bannear.
The hut burned down in the 2003 Alpine fires and the new hut was ready in early 2005.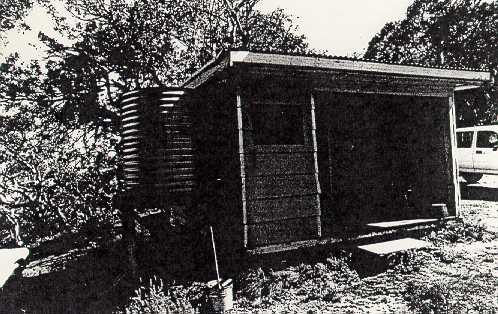 Please click on thumbnails for enlargements
Mt. Benambra (2002)
Walkway to public
access (2002)
Living quaters (2005)

The above photos were supplied by John Cardwell


The above fotos were taken on the FLO get-together in May 2012. The tower, cabin, hut and the view (Lake Dartmouth) from the hut verandah. Supplied by Andre Belterman

Mt. Benambra had it's cabin replaced in 2013

Back to North East
Back to Victorian Towers
Back to Home Page