# Created on 02/01/2015 3:29:44 PM
LURG
| | | |
| --- | --- | --- |
| | Grid Reference | DV 250524 |
Photo (200) and above information supplied by Michael Paolini.

£600 was provided in the 1961/1962 loan budget of the then Forest Commission of Victoria for construction of a lookout tower and cabin on The Granite in the Lurg Hills. 71 chain of track had to be constructed from the Shire road to the site. The private landowners were to receive £1.0.0 per year for the lease of the land. The tower was constructed from galvanised water pipe (2.5" legs) of 20' long and the cabin was built on a pre-cut frame with corrugated iron cladding. The design also provided for a 2'6" catwalk around the cabin. This tower replaced Reef Hills Lookout.
The above information was obtained from the historical section of the DSE.
The tower received a new cabin in 2000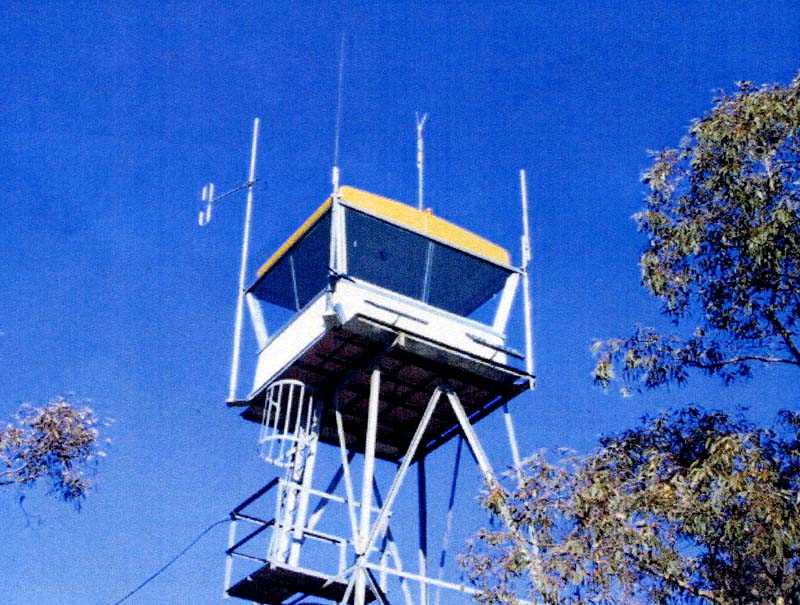 Please click on thumbnails for enlargements
| | | |
| --- | --- | --- |
| | | The tower received a new cabin again in mid-2014. Both photos supplied by Don Wellington. |


In January 2017, we received the following details from Geoff Smith:
The original tower at Lurg was built on wooden legs, I think well before 1952. Sorry I dont have dates but I do know it was burnt down over night in either the 1952 or 1956 bushfires. The towerman at the time went home at night and came back the next day to find it on the ground. What was left of the tower legs was left on the ground just to the sth of the "new" tower for many years.


The tower in the end of April 2018. The tower was visited as part of the end-of-season-FLO-gathering.
Photos supplied by Andre Belterman.
Back to North East
Back to Victorian Towers
Back to Home Page